Hi everyone. Sorry for not updating for a really long time. This entry was more than one month old. I don't have time to blog about this because I was having my final exams for the past few weeks. Hehe. Sorry for neglecting you my dear bloggy.
I went to Phuket one 29/8/2007 and came back on 1/9/2007. Even though the trip was short but I enjoyed the trip very much. This was my second time to Phuket but first time with Kitt. The first time I went to Phuket was a many years ago when I'm still in primary school with my family including my grandparents and aunts. We're on a star cruise trip that time. We only get down from the ship for a few hours. We had our lunch there and visited some temple. This time, we had a 4 days 3 nights trip there. Less crap and more photographs.
1st day-29/8/2007
This is the airport. We booked the 3 something flight. This is me and Kitt's first time to LCCT. When we arrived, we're like tourist. We have no idea where to go. This photograph was taken while we're waiting to board our aeroplane.
This is me and Kitt. I wanted to take a photograph of us with our aeroplane in it while walking!! Kitt took my camera and this is what he caught. Hoho. No aeroplane, can't see our face!! Hehe.
Took these photographs while we're flying to our destiny. Hehe. Nice view right?
The flight from LCCT to Phuket International Airport took 1.5 hours. The plane was so-so. Typical Air Asia plane. I think the woman sitting in front of me bathe in perfume because I nearly suffocate to death by her smell. SO TERRIBLE!! The guy behind me keep on pushing his leg really hard to my chair making it really hard for me to sit comfortably throughout the flight. Being a spoilt princess, I kept on sulking and complaining to Kitt. Hehe. Pity him. Feeling a bit guilty for disturbing Kitt when he's trying to take a short nap, I disturbed other items on board.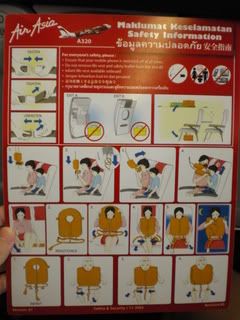 Things you should do when there is an emergency. Hehe. I wonder if there will be enough time to take out this board and follow the instruction. Hehe.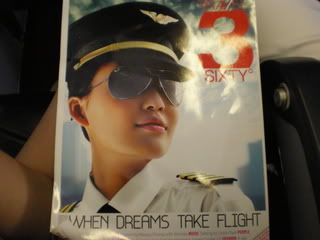 Air Asia Magazine. FEMALE PILOT!! So cool.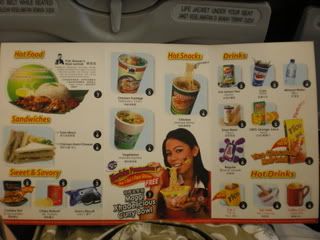 Food and beverages on board. Being a big fan of cup noodle, I ordered the vegetarian flavour. Hoho. Wanted to try the so-called Famous Nasi Lemak but then decided not to because scared that it will taste terrible. Hehe.
We arrived at Phuket around 6 something in the evening. We're a bit dissapointed because it was raining. So we took a taxi. On our way out from the airport, the taxi driver asked us if we have booked any hotel and we said no. So he brought us to some.... erm house by the road side that looks like a private tourist centre. The girl there showed us some hotels around Patong Beach area and we choosed the one recommended by her. Then she called the hotel and book the room for us. We went back to our taxi and the driver drove us there. Did I mention that our taxi driver was kind of cute? He's quite young. I think same age as me. Cute and handsome. Hoho. He's a student of Phuket University or something like that. He gave Kitt his name card, in case we need transport back to the airport when we leave, he can send us there. I HAVE HIS NUMBER!!!! Too bad I don't dare to take his photo. Hehe.

We stayed in Palm Beach Resort ( if i'm not mistaken ... hehe). From outside, the hotel is not too attractive. But the room is super comfortable. I never thought that the room could be this beautiful.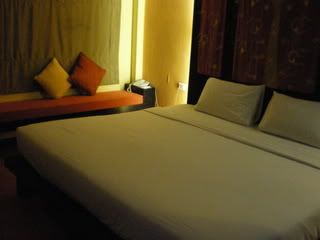 After settling down and taking our shower, we went to a restaurant just opposite our hotel for dinner. It was still raining that time, so we bought disposable rain coat and walk along the street. Along the way, there was one handicapped man selling beautiful hand made flowers under the rain. Kitt said we should buy one from him because he is so hardworking even though he is handicapped ( Both of his legs are amputated and he walked with his hands. He put all his flower on a trolley and pushed the trolley as he walk). There are some passer by who really buy his flower. Looking at that guy really made me very sad.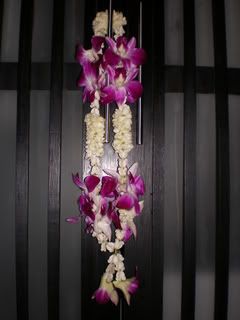 Day 2-30/08/2007
The rain stopped on the next morning. When I pull the curtains, I saw this.....


Empty land left by Tsunami. There is one part where you can still a walking path still attached and the other half is gone. So pitiful. We went to the hotel's restaurant for breakfast. It's a buffet breakfast where you can take a lot of bacon, ham and hotdogs. Haha. After breakfast, we crossed the main road just in front of our hotel and walk along the beach.
McD!!!! My favourite place. Too bad we don't have a chance to eat there. I wondered what are the differences between Thailand's McD and Malaysia's McD.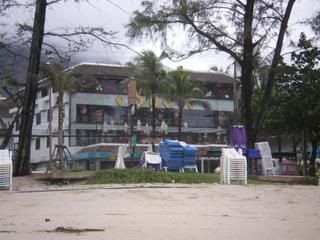 A place for those who love to club. Hehe.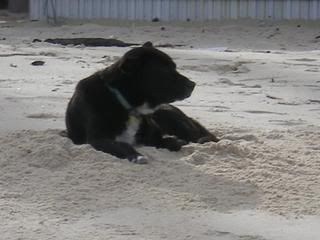 This fat black dog was sleeping on the beach. Potential Baby's bf No.1
This is the Patong Beach Hotel. It was very nice. It is located on the beach. We wanted to book here but there are no rooms available. Too bad.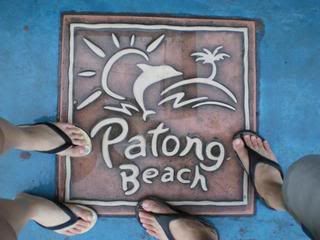 This is all along the street. Love these tiles very much.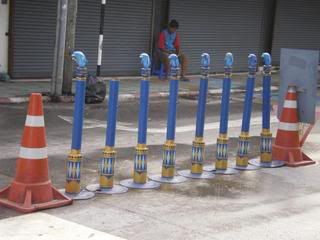 Even the road divider is adorable.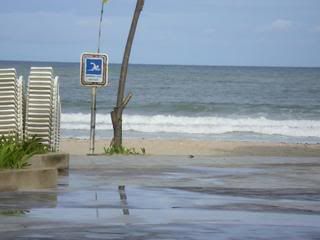 Notice the blue sign by the beach? It actually tells you where is the nearest evacuation route when there is a Tsunami.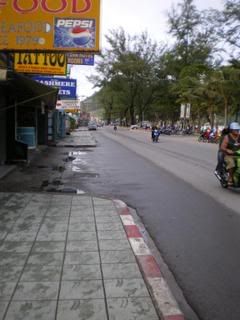 The street in the morning. The shops will open around 11 something in the morning till late at night, selling clothes, bags, bikinis, souveniers, massage services etc. Mostly are pirated stuff but quite cheap.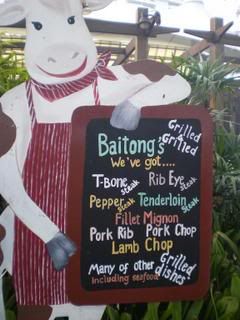 YUMMY!!!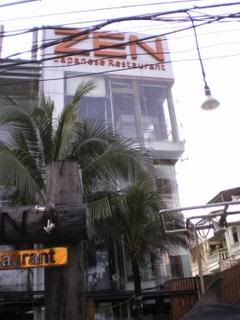 The only Japanese restaurant along the street. There is a lift that will bring you to the first floor.
There are a lot of private taxy driver that can offer their service to show you around the island for one day. Just remember to bargain for the price. Hehe. We hired a man called Charlie to show us around. He is a very nice guy. He helped us booked one tour at Khai Island for a really low price because his friend owns the travel agency. Hehe. He brought us to visit elephants. According to him, it's a must for tourist because elephants bring good luck for those who touched them. Guess what, me and Kitt ride on one of the elephant. Great experience!!


This is the baby elephant at the main gate. Did you notice that the elephant is smiling at the camera? Hehe. Adroable right? I bought a few bananas to feed this baby elephant. Hehe.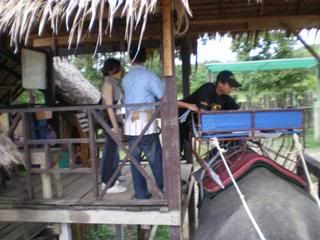 This is the place where we "board" our elephant. Hehe.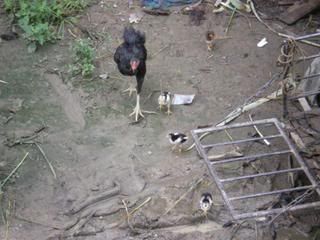 Mummy chicken and baby chicks living together with elephant? Amazing.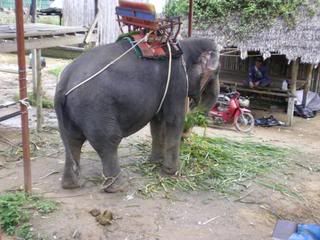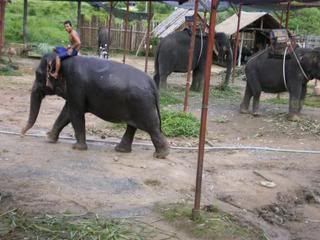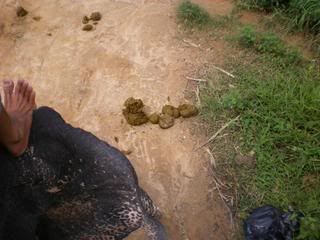 While we're on the track, there are a lot of elephant poops here and there. THEY ARE HUGE!!
This is the trail that will lead us to the top of the hill.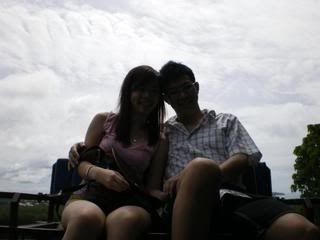 Our elephant "driver" took this pic for us when we're on top of the hill. Nice scenary!!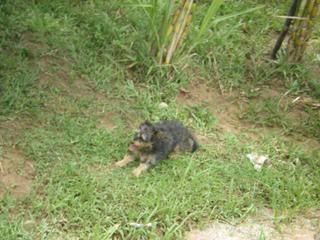 Baby Potential Bf No.2
After the elephant tracking, Charlie brought us on top of some hill so that we could snap some photos.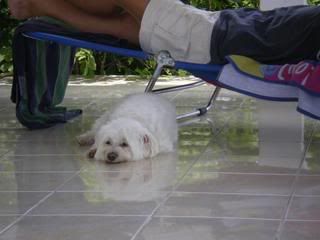 Then he brought us to Promthep Cape. Snap photos again.... hehe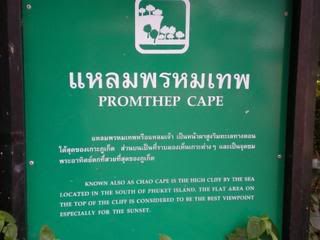 Charlie brought us to a restaurant near a fishing village where the seafoods are great and cheap. Hehe.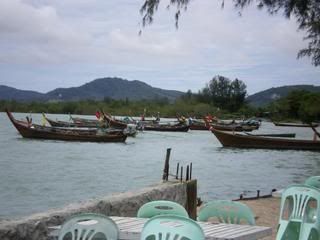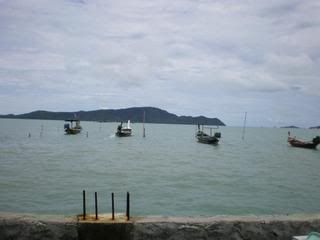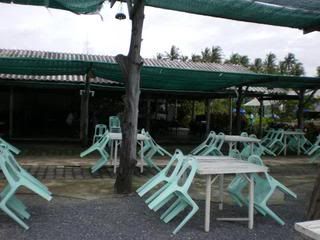 After lunch, he brought us to a pearl showroom where we found this...
AHHHHHHHHHHHHH I WANT I WANT!! Hehe.
How pearls are planted from erm.... pearl seeds, I guess. Hehe. No idea.
After that, he brought us for a quick stop at the cashew nuts factory. We're not a big fan of nuts but have you ever heard of cashew nut drinks? EWWWWW.... taste a bit ... funny. Hehe.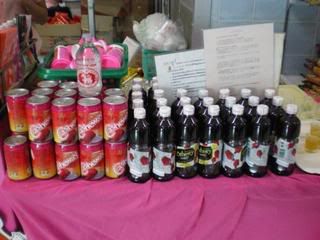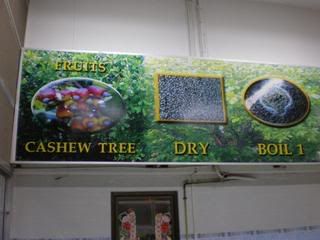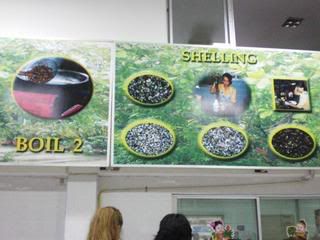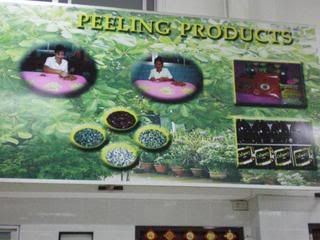 This lady demonstrated how to take the cashew nut out from the shell.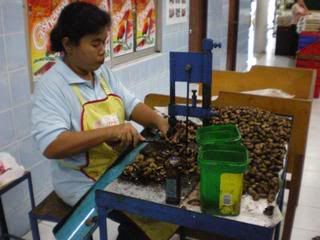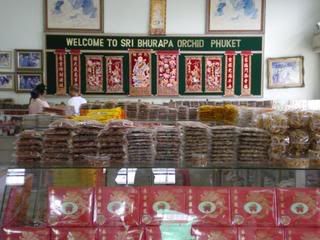 Tonnes and tonnes of cashew nut products.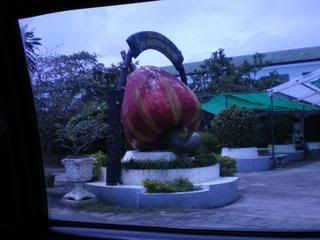 BIG CASHEW NUT!!!! SCARY!!!

After that, we head back to our hotel because I'm tired. Hehe.
Before dinner, Kitt went for foot massage. Hehe. I didn't go for it because I'm not used to massage by human hand because it will be very ticklish. I can only stand the massage chair at home. Hehe. Furthermore, it is foot massage. That will be super ticklish. Hehe. But Kitt said it's very very comforatble. That night, we had this for dinner......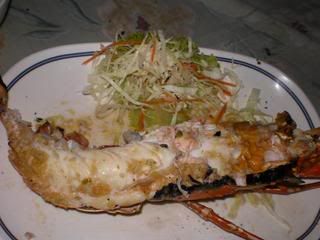 Half lobster for each person. THE LOBSTER IS VERY VERY BIG!!! NICE!!!!
After dinner, we walk along.... one street name which I forgot what the name is. Hehe. There are a lot of bars along the street. "Beautiful girls" are dancing at the bar top and shaking their boobs and butts in front of the customer. SEXY!!!
Me ( real boobs and butts ) with 3 pretty "ladies" (surgically implanted boobs and not-so-sexy butt) Hehe. I like the girl in pink. She is really really very pretty and tall.


Us and the girls. By the way, if you happen to walk on this street and you saw girls asking you to take photo with them, DO NOT TAKE WITH THEM, unless you are willing to pay 100Baht for each girl that took photo with you. It is really expensive. RM10 for taking photo with fake boobs and butts ....... way too expensive. In the end, Kitt gave them 110bath to share among 3 girls. Haha. After paying them, Kitt took my hand and walked away. Haha.
More bars. Actually they are a lot of gay bars and tiger show but we didn't enter any of those because I'M TERRIFIED OF AH KUASSSSS. They are quite scary.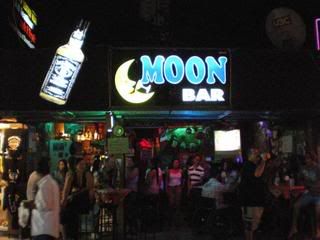 There are 2 places where you can watch Thai boxing too. We didn't watch because I'm not a big fan of violent stuff. Hehe.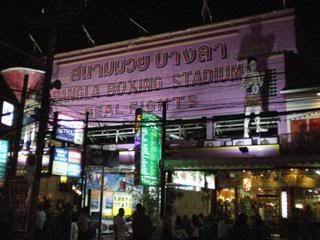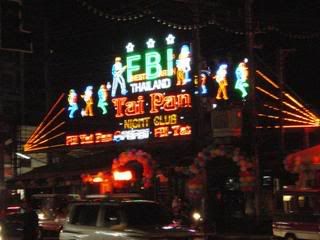 Day 3- 31/08/2007
MERDEKA!! MERDEKA!! But we're still in Phuket. Hehe. We went to Khai island for snorkelling.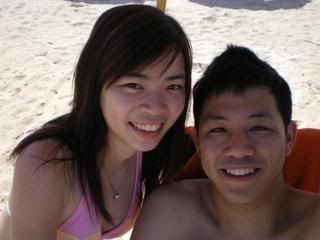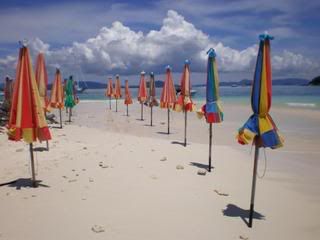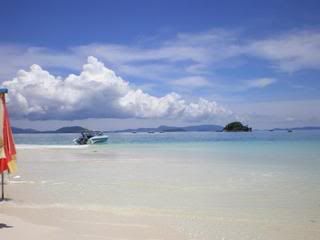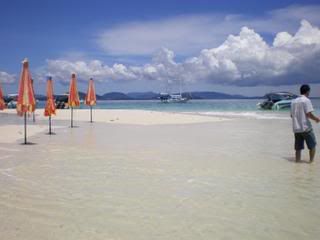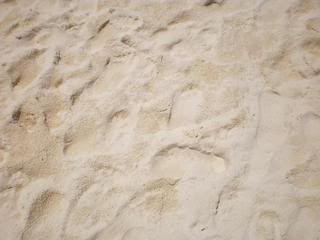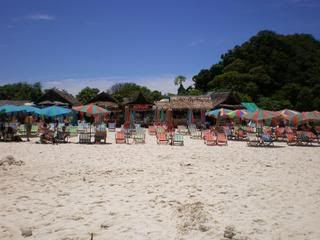 The island is very beautiful. But you have to rent the beach chairs from them. 120Baht for 2 chairs. Quite expensive actually.
We sneaked some bread from the hotel and fed the fishes. Hehe.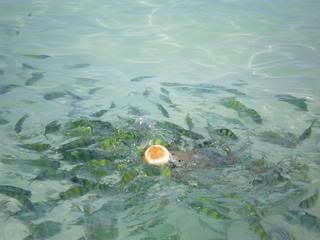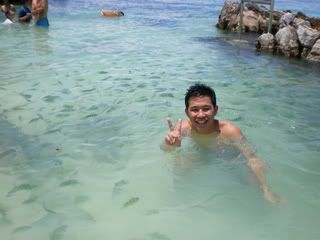 After that, we head back to our hotel and shop for souveniers till night. Hehe. We went to Jungceylon, a new shopping centre there. Hehe. They have normal branded stuff like Nike, Adidas, Quiksilver, Roxy, Billabong ( mostly sports and beach brands ). If we convert the price to RM, it is actually quite similar.
Day4-01/09/2007
This is our last day here. We went for last minute shopping for souveniers and stuff for Kitt's mum. Kitt bought some shirt for himself and his buddies. Hehe. Our flight home was 12 something in the afternoon, so we don't have much time to do anything else on that day.
Overall, the trip was very nice. I like the people there. They are very friendly and they always smile to you when you look at them. The only thing that I don't like is everything needs money. Sit on the beach chair for a while, you have to pay. Take photo with ah kua, you have to pay. Maybe I just don't understand the business world. Hehe.
Actually there are a lot of photographs that I didn't upload because it need a lot of time. Hehe.
My holiday starts now. YIPPIE!! But I will go for industrial training starting from 22nd October. Hehe. Hope that it will be fun.
~BuHBaI~
PS: Which dog is the winner for Potential Baby's Bf Contest? Hehe.