Hey people!!! I'm back!!! Hehe. I went to Penang with sis and my friends on Sat morning for 2 days 1 night trip. It's basically a eating trip where we started to eat on Sat noon till Sunday evening.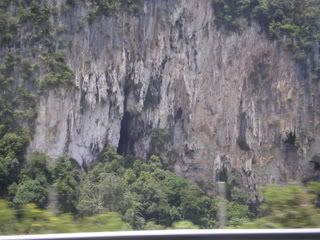 Everytime I go back Ipoh, the car will pass by some mountains and one of them have this hole which I named it "Dinosaur Hole" because someone once told me that dinosaurs used to stay inside this mountain and the hole is the entrance/exit to it's "home". Haha. I think my grandpa told me that.
We went to Ipoh for lunch. I didn't take photos of the food because I left my camera in the car. Hehe. But Niki took photos of them. Just have to wait till she send me the photos.
After that, we went to Kek Lok Tong. It's a temple near to Sam Poh Tong.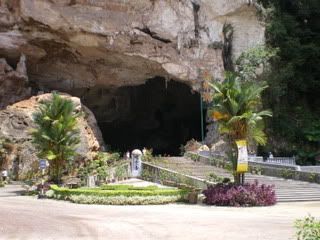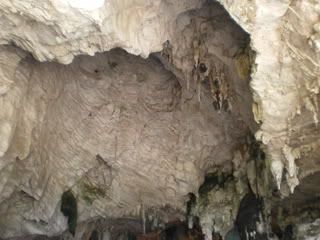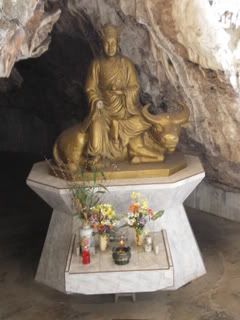 The buddha is missing it's hand!! I wonder what happened?!?!?!?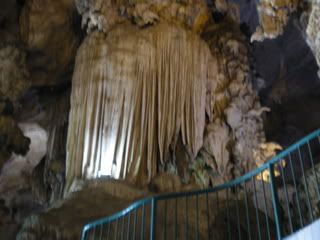 Me: I think it looks like a table with a table cloth on it.
Sis: Nah, I think it looks like waterfall.
Me: Okay. Acceptable. I saw one at the front that looks like a monkey looking at me.
Sis: Monkey? You can tell that it looks like monkey?
Me: Yeah la. Add in some imagination la please...
Sis: -_-" *speechless*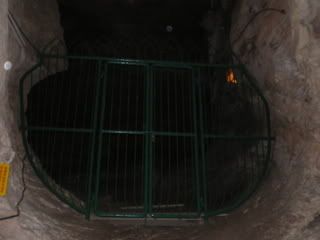 Somewhere in the middle part, there is this huge gate. Being a super coward, I dare not go near the gate to see what is inside because it is really really dark. Scary man. As I moved away from the gate, a bat flew out!! Luckily I didn't screamed "too" loud. Hehe.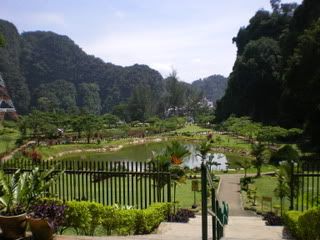 Behind the hill, there is this big garden that none of us went down because it's too sunny. Haha.
Don't this plant looks cute? Hehe.
After that, we went to buy pomelo.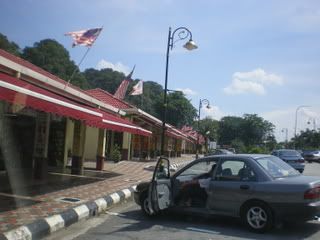 There is this row of shops that sell pomelo. When we parked our car, each stall's representative young girls wearing quite sexily will stand in the middle of their entrance. Hoping that you will buy pomelo from them. It's funny. And each stall has it's own number too.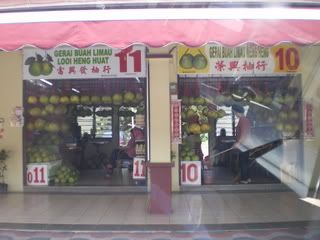 I think sis went into the No.10 stall.
After shopping for pomelo, we continued our journey to Penang. We reached there around 6 pm. After settling down, we went out for dinner. There is this famous place where there are a lot of hawker stalls lining up on both sides. There were Char Kueh Teow, cendol, asam laksa and others.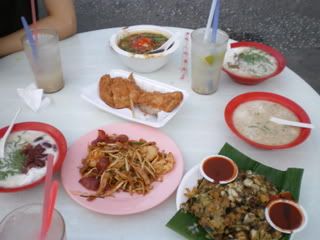 Part of our food. We ordered one type of food from each stall. Hence, the table was filled with food. Seriously, not all of them are nice. Quite disappointed though. Met Catherine there. I always bumped into her when I go out. Haha.
After that, we went to Queensbay Mall to shop just a little and chatting session at Starbucks.
Sis wanted to eat mochi so we went to Gurney drive for supper. I was surprised to see a lot of people sitting at the side there in the middle of the night just staring at the sea. Some just sit there with friends. Spotted a few Malay families with little kids there too. Way past bedtime. Haha. Anyway, the mochi was really good. Still warm.
The next morning, we went out for early dim sum breakfast.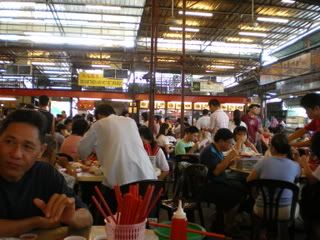 This place looks like a huge food court but they only serve dim sum in the morning. Bump into WS there. Haha. Small world right. He's from Penang. Anyway, the dim sum was so so.
After that, we visited a Thai temple and the Burmese temple just opposite it.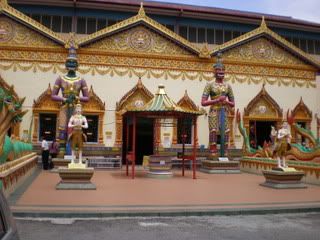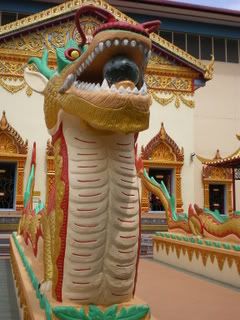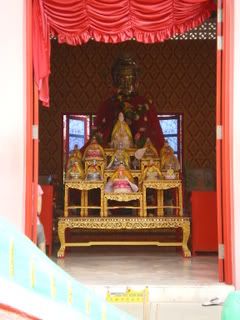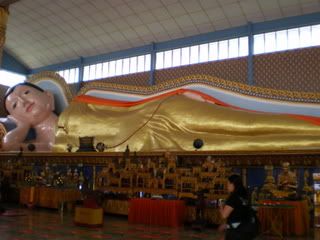 I have seen photos of this Reclining Buddha a few thousand times but this is my first time seeing it in real life. Smaller than my expectation. Oh well..
Behind the huge buddha statue, there is one row of smaller buddha statues, each representing an animal in Chinese zodiac.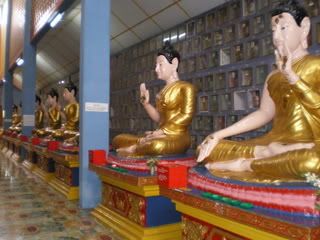 Notice what are behind those buddha statues??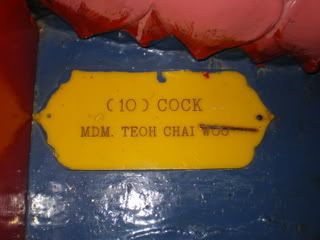 HAHAHAHAHAHAHAAHAHAHA!! Okay, i found it funny :p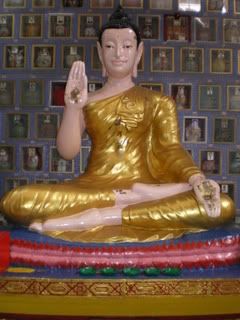 This is for tiger. Me me me me me me.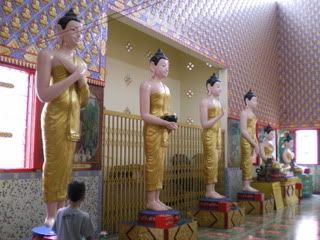 Each of these statues represent one day of the week.
After that, we went to the Burmese temple.
Behind the big statues are...
two rows of smaller statues. I forgot what each of them represents. Haha.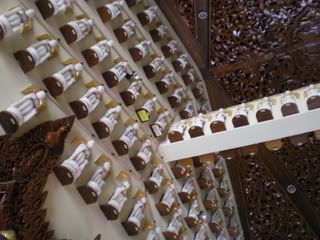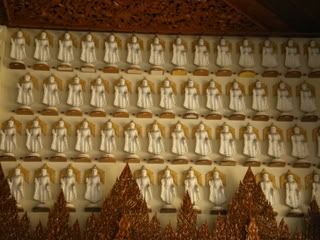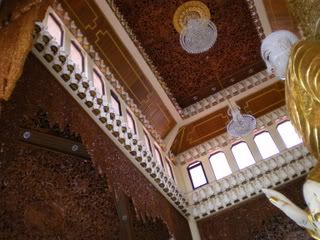 Smaller statues lining on the walls near the ceiling. So cool!!
A monk blessing a man. First time observing a blessing ceremony. Hehe.
After that, we went for biscuit shopping. The mascots of the shop were really cute. Hehe. Love the rabbit tooth on one of them. Hehe.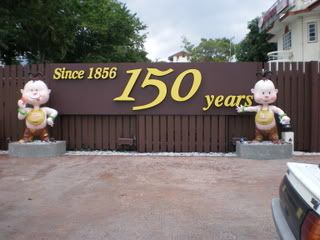 After that, we went for asam laksa near a pasar at Air Hitam, near the Kek Lok Si. Hehe. It was way better than the one that we had the night before. After that, we went back to KL and...
a huge plastic bag stuck in front of the car while our car travelling along the Penang bridge. Hahahaha. It was really funny. The car that past by us gave us a weird look. Hehe. Very paiseh lor. We can't stop laughing till we reached the R&R. Once the car stop, the plastic bag dropped on the floor and we continued our journey after that. Haha.
Stopped at Bidor for Duck noodles. Bought some biscuits and fruits. Hehe. After that, went home straight.
Sorry for the brief entry because I'm really tired. Have to rest as tomorrow I'm heading off for holiday with Kitt-y and friends. Will update when I'm back on Wednesday. Hehe.
Selamat Hari Raya people.
~BuHBaI~